What is the Intercollegiate Dressage Association?
The IDA is a United States based show circuit that offers University and College students an opportunity to compete and learn about the sport of Dressage

The Intercollegiate Dressage Association (IDA) was formed in 1995 as an informal organization that held competitions between local colleges and secondary schools in the Northeast of the United States. As the program began to develop, a rapid interest in the association formed. This led to a more formal organization and wider participation across the entire United States. In the spring of 2001 the first regional finals were held. By 2003 the Intercollegiate Dressage Association became an official college/university only organization and comprised of schools across the United States and into Canada.

The Intercollegiate Dressage Associate strives to be an organization that can introduce students to the art of dressage and aid in the continued development, understanding and education of Dressage through competition and educational opportunities.

At IDA competitions riders in teams of four compete at Introductory Level, Lower Training Level, Upper Training Level and First Level. Riders accumulate points based on their placings and Teams accumulate points based on their best three rider scores. Horses are provided by the host school providing a unique challenge for riders and allows riders the opportunity to ride a variety of different horses over the season.
All information found on this page came from and can be found on the Intercollegiate Dressage Association website
Powered by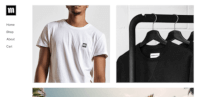 Create your own unique website with customizable templates.